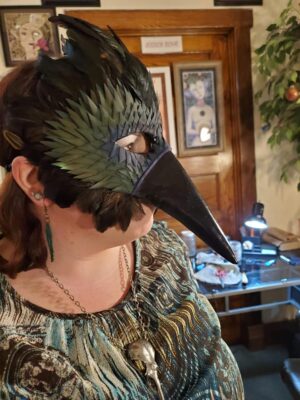 Jessica Rohr is a fine watercolor artist whose work combines a mixture of fantasy and surrealism and focuses on capturing both the light and dark sides of the mind.
Taking inspiration from mythology, nature, emotion, music, dreams, and random sparks of imagination, her paintings feature various creatures, figures, animals, and symbolic elements. Her style of painting blends clean details with organic textures and the use of vivid colors and intricate stylization.
Coming from a family of numerous artists that includes her mother and brother, Jessica is self-taught as an artist and has 20 years of experience painting. Although she initially got her start in acrylic, she now works in watercolor, a medium she loves for its glow and spontaneity. She often combines it with other mediums such as ink, metallic acrylic, and mixed media elements.
Jessica lives in the Appalachian foothills of rural Coshocton County, Ohio, with her cat, Cinnamon. She attends various art shows and festivals throughout Ohio, is a member of ArtCoZ (Artist Colony of Zanesville) and ZAAP (Zanesville Appalachian Arts Project), was a founding member and secretary of the Coshocton County Artist Collective, and co-owned the Mindscapes Studio & Gallery in Zanesville, Ohio.
Awards
2023 Y-Bridge Arts Festival Best of Show Competition: Honorable Mention for "The Herald of Winter"
2019 Y-Bridge Arts Festival Best of Show Competition: First Place for "The Ascension of the Sun"
2018 Foot-by-Foot Art Competition: Second Place for "Festival of the Dogwood"
2017 Coshocton Art Prize: Honorable Mention and People's Choice Award (collective body of work)
2017 Salt Fork Arts & Crafts Festival: Emily Award (collective body of work)
2016 Coshocton County Fair: Best of Show for "A Price to Pay"
2016 Y-Bridge Arts Festival Best of Show Competition: Honorable Mention for "A Price to Pay"
2013 Pomerene Center for the Arts Show: Tie for First Place for "Where the Water Turns to Crystal"
2006 Appalachian Women Juried Art Show: Best of Show- Painting Category for "Deep in the Forest"
Publications
78 Tarot Ecological Deck, 2020 (contributing artist)
78 Tarot Elemental Deck, 2019 (contributing artist)
The Magical Times Magazine, 2019 (featured artist)
Coshocton Tribune, "Art with an Edge," 2017